About Us
New Hoviwa is a Chinese takeaway in Braintree. Why don't you try our Crispy Pancake Roll (1) or Roast Pork With Mixed Vegetables?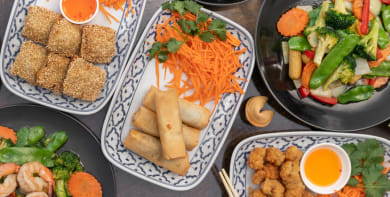 Reviews
301 reviews
Martin
"Great service, great food"
08/05/2021
Nicola
"Hit the spot lovely. Thank you"
07/05/2021
Jeanne
"Delicious food, delivered nice and hot. Much nicer than last time I ordered. Chicken and cashew nuts actually had cashew nuts in this time and was lovely. Will definitely order again."
30/04/2021
Tomas
"Excellent quality of food, changed my opinion on a bunch of dishes Iv previously had bad elsewhere. The salt and pepper chicken balls are a must have"
29/04/2021
Menu
Special Omelette with Chips
Chicken, roast pork & shrimp
£5.90
King Prawn Omelette with Chips
£5.90
Shrimp Omelette with Chips
£5.90
Chicken Omelette with Chips
£5.90
Roast Pork Omelette with Chips
£5.90
Mushroom Omelette with Chips
£5.90
Cheesy Omelette with Chips
£5.90
Set Menu for 1 Person
Vegetable spring roll
Sweet & sour chicken balls (6)
Chicken curry
Egg fried rice
Prawn crackers
£10.00
Set Menu for 2 Persons
Sweet & sour chicken balls
Chicken with mushroom
Beef curry
Chicken chow mein
Egg fried rice
Prawn crackers
£22.00
Set Menu for 3 Persons - A
Spare ribs with barbecued sauce
Beef with green pepper in black bean sauce
Lemon chicken
Kung po chicken
Special curry
Chicken chow mein
Egg fried rice
Prawn crackers
Bottle of Coke
£32.00
Set Menu for 3 Persons - B
Vegetable pancake roll
Quarter of crispy aromatic duck
Sweet  & sour king prawn balls
Szechuan chicken (H)
Beef with green pepper in black bean sauce
Special chow mein
Special fried rice
Prawn crackers
Bottle of Coke
£38.00
Set Menu for 4 Persons
Spare ribs with barbecued sauce
Vegetable pancake roll
Salt & pepper chicken wings (H)
Quarter of crispy aromatic duck
Sweet & sour chicken balls
Lemon chicken
Chicken with pineapple
Beef with green pepper in black bean sauce
Special chow mein
Special fried rice
Prawn crackers
£48.00
Crab Meat & Sweetcorn Soup
£3.30
Chicken Noodle & Mushroom Soup
£3.30
Chicken Noodle & Mushroom Soup
£3.30
Special Ho Fun
Chicken, roast pork & shrimp
£6.10
Singapore Ho Fun
Chicken, roast pork, shrimp & chilli curry powder
£6.10
Beansprouts & Onions Ho Fun
£5.10
Salt & Pepper Chicken Wings
Hot
£5.50
Salt & Pepper Shredded Chicken
Hot
£5.50
Salt & Pepper Chicken Balls
Hot
£5.50
Salt & Pepper Chicken Bites
Hot
£5.50
Salt & Pepper Spare Ribs
Hot
£6.10
Salt & Pepper King Prawns
Hot
£6.10
Special Fu Yung
Chicken, roast pork & shrimp
£5.80
Satay Sauce
Contains nuts/peanuts
£2.50
Crispy Aromatic Duck Quarter
Flavour succulent duck, spring onion, cucumber, hoisin sauce & pancake
£8.90
Crispy Aromatic Duck Half
Flavour succulent duck, spring onion, cucumber, hoisin sauce & pancake
£16.50
Roast Duck with Green Pepper in Black Bean Sauce
£6.10
Roast Duck with Ginger & Spring Onion
£6.10
Roast Duck with Cashew Nuts
Contains nuts/peanuts
£6.10
Roast Duck with Cashew Nuts in Yellow Bean Sauce
Contains nuts/peanuts
£6.10
Roast Duck with Pineapple
£6.10
Satay Roast Duck
Contains nuts/peanuts
£6.10
Roast Duck with Mixed Vegetable
£6.10
Roast Duck with Lemon Sauce
£6.10
Roast Duck with Orange Sauce
£6.10
Roast Duck With Chilli & Garlic
£6.10
Mixed Hors D'oeuvres
Spare Ribs, Vegetarian Spring Rolls, Prawn on Toast, Seaweed & Chicken Wings with Sweet & Sour Sauce
£8.80
Vegetarian Mini Spring Rolls (10)
£3.30
Crispy Pancake Roll (1)
Roast Pork, Shrimp & Beansprouts
£2.30
Satay Chicken on Skewers (5)
With a cup of satay sauce
Contains: Nuts / Peanuts
£5.90
Prawn on Toast with Sesame Seeds
£4.80
Butterfly King Prawns with Breadcrumb
With sweet & sour sauce
£4.80
Crispy Seaweed Garnished with Ground Fried Fish
£4.10
Vegetarian Pancake Rolls (6)
Cabbage, Carrot, Babycorn & Fungus
£3.30
Cheesy Chicken Spring Rolls (6)
£3.30
Crispy Won Ton (6)
With sweet & sour sauce
£3.80
Crispy Smoked Shredded Chicken
£5.30
Chicken with Green Pepper in Black Bean Sauce
£5.60
Chicken with Ginger & Spring Onion
£5.60
Chicken with Cashew Nuts
Contains nuts/peanuts
£5.60
Chicken with Cashew Nuts in Yellow Bean Sauce
Contains nuts/peanuts
£5.60
Satay Chicken
Contians Nuts/Peanuts
£5.60
Chicken in Cantonese Sauce
£5.60
Chicken with Mixed Vegetables
£5.60
Chicken with Chilli & Garlic
£5.60
Kung Po Chicken with Cashew Nuts
Contians Nuts/Peanuts
£5.60
Chicken with Bamboo Shoots & Water Chestnuts
£5.60
Crispy Shredded Chilli Chicken
£5.60
Chicken In Black Pepper Sauce
£5.60
King Prawn with Green Pepper in Black Bean Sauce
£6.10
Mussels with Green Pepper in Black Bean Sauce
£6.10
King Prawn with Ginger & Spring Onion
£6.10
Mussels with Ginger & Spring Onion
£6.10
King Prawn with Cashew Nuts
Contians Nuts/Peanuts
£6.10
King Prawn with Cashew Nuts in Yellow Bean Sauce
Contians Nuts/Peanuts
£6.10
Satay King Prawn
Contians Nuts/Peanuts
£6.10
King Prawn with Mixed Vegetables
£6.10
King Prawn with Chilli & Garlic
£6.10
Kung Po King Prawn with Cashew Nuts
Contians Nuts/Peanuts
£6.10
Beef with Green Pepper in Black Bean Sauce
£5.80
Beef with Ginger & Spring Onion
£5.80
Beef with Cashew Nuts
Contians Nuts/Peanuts
£5.80
Beef with Cashew Nuts in Yellow Bean Sauce
Contians Nuts/Peanuts
£5.80
Satay Beef
Contians Nuts/Peanuts
£5.80
Beef with Mixed Vegetables
£5.80
Beef with Chilli & Garlic
£5.80
Kung Po Beef with Cashew Nuts
£5.80
Crispy Shredded Chilli Beef
£5.80
Beef In Black Pepper Sauce
£5.80
Roast Pork With Green Pepper In Black Bean Sauce
£5.80
Roast Pork With Ginger & Spring Onions
£5.80
Roast Pork With Cashew Nuts
Contains nuts/peanuts
£5.80
Roast Pork With Cashew Nuts in Yellow Bean Sauce
Contains nuts/peanuts
£5.80
Satay Roast Pork
Contains nuts/peanuts
£5.80
Roast Pork With Mixed Vegetables
£5.80
Roast Pork With Chilli Sauce
£5.80
Roast Pork With Bamboo Shoots & Water Chestnuts
£5.80
Kong Po Pork With Cashew Nuts
Contains nuts/peanuts
£5.80
House Special Chow Mein
Chicken, beef, roast pork & king prawn in sauce
Large
£6.10
Special Chow Mein
Chicken, roast pork & shrimp
£5.60
Bean Sprouts & Onion Chow Mein
£4.50
Plain Chow Mein
Without vegetable
£4.30
Singapore Chow Mein
Chicken, roast pork, shrimp & chilli curry powder
£5.60
Shrimp Chow Mein
Does not come with any sauce
£5.30
Special Rice Noodles
Chicken, roast pork & shrimp
£5.80
Spicy Singapore Fried Rice Noodles
Chicken, roast pork, shrimp & chilli curry powder
£5.80
King Prawn Fried Rice Noodles
£6.10
Chicken Fried Rice Noodles
£5.30
Roast Pork Fried Rice Noodles
£5.30
Shrimp Fried Rice Noodles
£5.30
Roast Duck Fried Rice Noodles
£6.10
Stir Fried Mixed Vegetables
£4.80
Stir Fried Mixed Vegetable with Black Bean Sauce
£4.80
Stir Fried Bamboo Shoots & Water Chestnuts
£4.50
House Special Fried Rice
Chicken, beef, roast pork & king prawn in sauce
Large
£6.10
Special Fried Rice
Chicken, roast pork & shrimp
£4.60
Singapore Fried Rice
Chicken, roast pork, shrimp & chilli curry powder
£6.10
Barbecued Pork Fried Rice
£4.30
Roast Duck Fried Rice
Large
£6.10
King Prawn Fried Rice
Large
£6.10
Mixed Vegetables Fried Rice
Large
£4.80
Pineapple Fried Rice with Cashew Nuts
Contains Nuts/Peanuts
£4.30
Sweet & Sour Chicken Balls
£5.90
Sweet & Sour King Prawn in Hong Kong Style
£6.10
Sweet & Sour Chicken in Hong Kong Style
£5.80
Sweet & Sour Pork in Hong Kong Style
£5.80
Sweet & Chilli Crispy Chicken Wings
£5.90
Har Kau (6)
Prawn filled in rice pastry
£4.80
Sui Mai (6)
Pork filled in egg pastry cup
£4.80
Grilled Dumplings (5)
Pork & vegetable filling
£4.50
Chicken Dumplings (5)
chicken & vegetable filling
£4.50
Vegetable Grilled Dumplings (5)
Vegetable filled in egg pastry
£4.50
Roast Pork Buns (3)
Roast pork filled in soft white buns
£4.50
Custard Buns (3)
Custard filled in soft white buns
£4.50
All in One Steamed Basket (8)
Har Kau (1), Sui Mai (1), Grilled Dumpling (1), Vegetable Grilled Dumpling (1), Chicken Grilled Dumpling (1), Roast Pork Bun (2) & Custard Bun(1)
£9.30
Spare Ribs with Honey Sauce
£5.80
Spare Ribs with BBQ Sauce
£5.80
Spare Ribs with Peking Sauce
£5.80
Spare Ribs with Sweet & Sour Sauce
£5.80
Special Curry
Chicken, beef & roast pork
Hot
£5.80
Thai Red Chicken Curry
Coconut milk
£5.50
Thai Red Roast Pork Curry
Coconut milk
£5.50
Thai Red Beef Curry
Coconut milk
£5.50
Thai Red King Prawn Curry
Coconut milk
£6.10
Thai Green Chicken Curry
Coconut milk
£5.50
Thai Green Beef Curry
Coconut milk
£5.20
Thai Green Roast Pork Curry
Coconut milk
£5.50
Thai Green King Prawn Curry
Coconut milk
£6.10
Thai Red Roast Duck Curry
Coconut milk
£6.10
Thai Red Vegetable Curry
Coconut Milk
£5.10
Thai Green Roast Duck Curry
Coconut milk
£6.10
Thai Green Vegetable Curry
Coconut milk
£5.10
Contact Us
Find Us
82a Manor Street, Braintree, CM73HR